In this talk, we would go through the lessons learnt in the last couple of years around organising a Data Science Team and the Machine Learning Engineering efforts at Bumble Inc. How we saw arising different "engineering flavors" and which are their responsibilities in building, scaling and maintaining data/ML products at global scale. Massimo will also deep dive into Bumble Inc MLOps stack, enriching it with lessons learnt and best practices.
What's the focus of your work these days?
Currently leading some of the smartest folks I have ever worked with in the Integrity & Safety and MLOps teams at Bumble Inc, the parent company of Bumble, Badoo and Fruitz. My teams' focus is both in designing, deploying and maintaining world-class ML solutions that keep our platforms safe while enabling and facilitating the work of the wider Data Science Team, implementing a centralized MLOps platform able to support the end-to-end lifecycle of ML projects at the company.
What's the motivation for your talk at QCon New York 2023?
The level of maturity we reached at Bumble in our machine learning endeavors required years of work and some mistakes along the way. In this talk, I will go through some interesting concepts, definitions and approaches that worked well for us and that can be replicated with little effort by other practitioners facing similar challenges, especially while building a machine learning engineering function.
How would you describe your main persona and target audience for this session?
Senior engineers or engineering leaders interested in learning more about other teams' ML challenges, both the ones that already started a successful machine learning journey or the ones that are falling into common pitfalls along the way.
Is there anything specific that you'd like people to walk away with after watching your session?
A good understanding of what it means to be a machine learning engineer in a successful ML team and which responsibilities they should have in order to have an impact. A list of common challenges and solutions together with tools and frameworks that worked well (and the ones that didn't!).
---
Speaker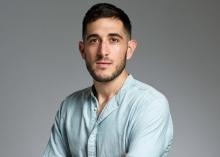 Massimo Belloni
Data Science Manager @Bumble
Massimo is a Data Science Manager and Machine Learning Engineer currently leading the Integrity & Safety Team at Bumble Inc (London, UK). He previously was Team Lead of the Data Engineering Team at HousingAnywhere (Rotterdam, The Netherlands) and graduated in computer engineering at Politecnico di Milano (Milan, Italy). He has quite a broad and random set of interests within and outside the AI space, with a focus on consciousness, weak and strong AI debate and football. In his spare time, he is also a burgers and kebabs evangelist.
Read more
Find Massimo Belloni at: