QCon New York 2019 is a wrap!
Over 1200 attendees, speakers and exhibitors made this year's conference one of our best ones yet. Take a look at the conference highlights. Catch up with the session videos you missed. See what people had to say on social about #QConNYC.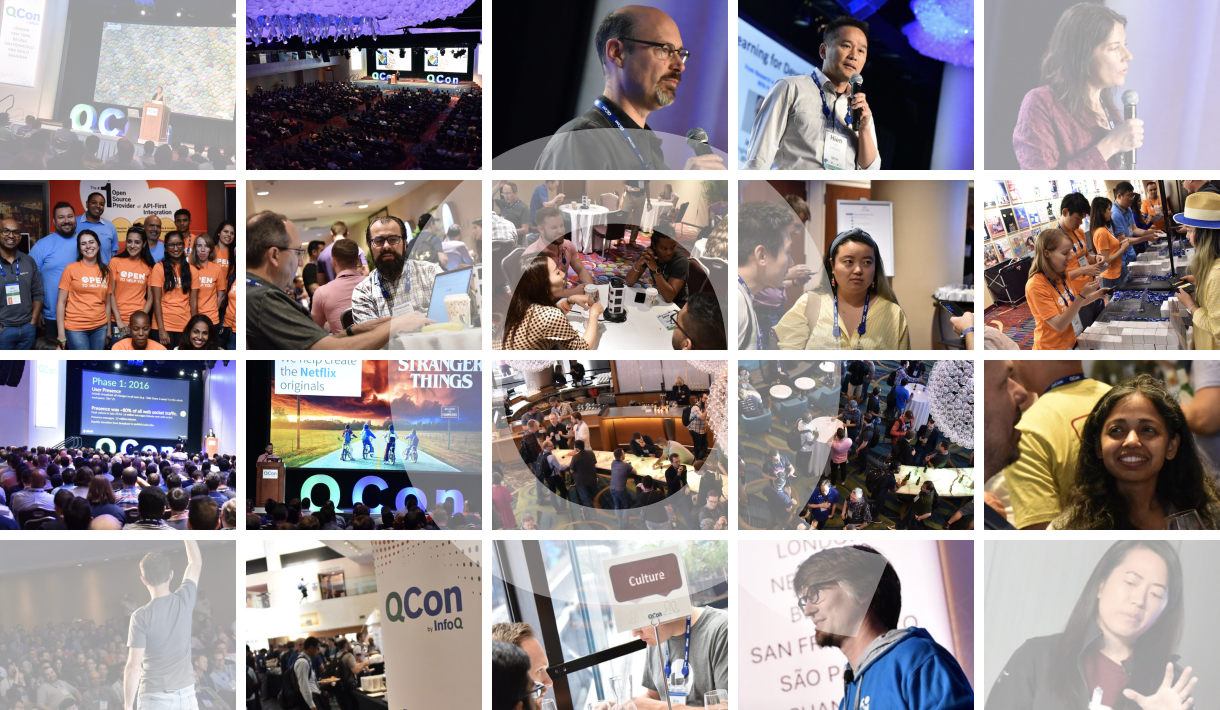 2019 Topics
Over 1200 attendees learned from practitioners working in innovator and early adopter companies about the topics that matter most in software today. Our technology adoption curve captures these topics:
Innovators
Deep Learning
Blockchain
Rust
Web Assembly
Software Ethics
Service Mesh
Early Adopters
Serverless
Chaos Engineering
Reactive Programming
gRPC
Kubernetes
GraphQL
JDK9
Machine Learning
Observability
Software Supply Chain
Early Majority
Microservices
Event Driven Architecture
Distributed Systems
Use our interactive chart to learn more about the 2019 sessions by topic
2019 Hosts and Tracks
What is a QCon track? Each "editorial" track (that's what we call the curated talks focused on developer lessons) is a collection of software topics curated by a domain expert in areas such as culture, data science, machine learning, front-end technologies, and architecture. Take a look at the QCon New York City 2019 hosts and tracks:
2019 Workshops
QCon isn't just about the conference. QCon also offers a wide reach of workshops on the two days following the conference. We had an incredible lineup of workshops in 2019 that provided shorter technology-focused deep dives. This year's topics included: Machine Learning, Knative, Rust, Java and building Modern Web Applications:
2019 Keynotes
QCon New York 2019 brought together incredible people who shared their insights in the heart of Times Square to help software teams adopt new technologies and practices. Our keynote speakers are among the team leads, architects and software engineers moving our industry forward. Here's four takeaways from our 2019 keynotes:
The QCon Impact
QCon is a conference which creates opportunities for any developer in the world to talk to talented programmers who use leading-edge technology in their projects and are ready to communicate their experience. QCon inspires!
This has been an awesome conference, after speaking with others I think it's due to the super technical content, quality speakers, and lack of vendor talks #qconlondon so glad I could be here :)

Alina Lapina
Senior Developer at Experis Ciber


QCon New York 2019
Hi #QConNYC Thanks for being a great audience during the talk, "Cultivating High Performing Teams in Hypergrowth" You can find the slides here: https://slideshare.net/thekua/cultivating-high-performing-teams-in-hypergrowth-qcon-nyc-jun-2019...

Pat Kua
@patkua
Thank you so much
@qconnewyork
for having me.

Slides for "The Trouble With Learning in Complex Systems" can be found here:
http://jhand.co/QconNYC
#QconNYC

J:Hand
@jasonhand
Had a blast at @qconnewyork today -- @shawncarney and I gave a talk about why context matters when building high performing teams! Thanks for having us! Slides and video to come soon! #QConNYC

Zofia Ciechowska
@zociechowska
Thank you @srinip for a fantastic write-up on my QCon NYC 2019 Talk on Domain-Driven Design and Event-driven architecture.

indu@hachyderm.io
@Indu_alagarsamy
I would recommend it for the depth of focus on software engineering topics, and the transparency around sponsorship. It really feels like an event for the practitioner (not for commercial products).

Larry Xu
Director of Technology at Fannie Mae

QCon New York 2019
Sign up for event updates
Hear about the latest QCon and InfoQ developments. Be the first to learn about in-person and virtual events.
We facilitate the spread of knowledge and innovation in professional software development by sharing the expertise of practitioner software engineers and architects. We've been helping software development teams adopt new technologies and practices for over 17 years through InfoQ articles, news items, podcasts, tech talks, trends reports, and QCon conferences. Join a community of senior software engineers, architects and team leads.
Read InfoQ →